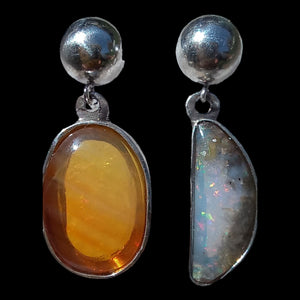 Experience the timeless dance of celestial bodies with our enchanting mismatched earrings, capturing both the sun and the moon in delicate sterling silver designs. The fire opal on one earring radiates warmth and energy, representing the sun's life-giving force. On the other earring, the opal in andesite matrix embodies the enigmatic allure of the moon's serene glow.
Wearing these earrings is like embracing the yin and yang within you – the fire opal ignites your passions, while the opal in andesite matrix reflects your depth and intuition. Let them remind you of the harmonious dance of opposites that shapes the world around us.
Aretes de plata .925, sol y lune, con ópalos naturales, andesita y de fuego .

Silberohrringe .925, Sonne und Mond, mit natuerlichem Andesit Matrix und Feuer Opal .

Boucles d'oreilles d'argent .925, sol et lune, avec une opale matrix andesite et de feu naturelle.