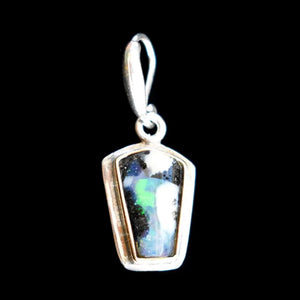 Pendant, sterling silver and 18ct gold bezel (15x10x4mm) with natural black opal. Handmade .
Dije de plata .925 y oro 18ct  (15x10x4mm)con ópalo negro natural. Hecho a mano.
Silberanhänger .925 mit Gold 18kt  (15x10x4mm)mit natuerlichem schwarzem Opal. Handarbeit.

Pendantif d'argent .925  et or  18ct (15x10x4mm) avec une  opale noire naturelle. Fait main.