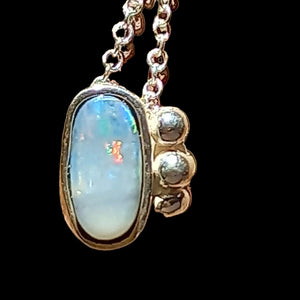 Celebrate the beauty of cultural symbolism with our sterling silver pendant, designed to mirror the Maya numeral eight. This pendant is adorned with a captivating natural black/seam opal, infusing the ancient artistry with the allure of a mesmerizing gemstone. Wearing this pendant is like wearing a piece of history intertwined with the magic of a gemstone. Let it remind you of the wisdom and ingenuity of the Maya people, while the opal's mysterious play of colors evokes the enigmatic allure of ancient civilizations.
Dije de plata, canastita, con ópalo de cristal natural. Hecho a mano.
Silberanhaenger, Koerbchen, mit natuerlichem Kristalopal. Handarbeit.
Pendantif d'argent, corbeille, avec une opale de cristale naturelle.  Fait main.