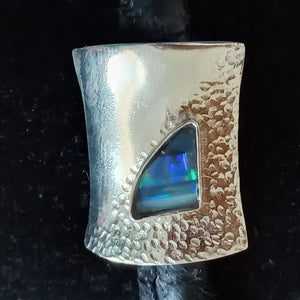 This sterling silver centerpiece portrays the silhouette of a sail, gracefully billowing against the backdrop of the Caribbean Sea. At its heart lies a natural black opal, mirroring the sea's iridescence as it shimmers under the sun's embrace.
Wearing this centerpiece is like wearing a piece of the Caribbean horizon with you, a reminder of boundless horizons and endless possibilities. Let it evoke the dream of gentle breezes, azure waters, and the promise of discovery on the open sea.
Centro de plata .925 con opalo negro, vela en el Caribe, para pulsera de cuero de pescado

Segel in der Karibik, Silber .925 mit natuerlichem schwarzen Opal mit Fischlederarmband.
Voilier dans les Caraibes, argent .925 avec opale noire naturelle pour un bracelet de cuir de poisson.