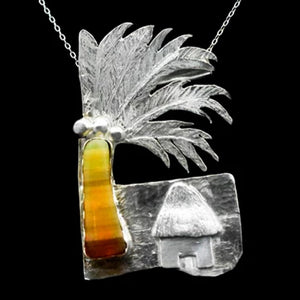 Transport yourself to the tranquil beauty of the Caribbean with our exquisite sterling silver pendant. Nestled within the pendant's artful design is a fiery opal, alive with shades of orange and red, capturing the essence of a tropical sunset. A meticulously crafted coconut tree stands besides a charming Caribbean cottage, evoking the serenity of island life. This pendant is a wearable piece of paradise, a reminder of sandy shores and warm breezes that whispers of relaxation and wanderlust. Embrace the magic of the Caribbean with our Sterling Silver Pendant, a symbol of exotic escape and coastal charm (approx 5x3.5cm).

Paisaje caribeño, dije de plata .925 (aprox 5x3.5 cm) con opalo de fuego natural. Hecho a mano . Incluye cadena de plata aproximadamente 40cm.
Karibische Landschaft, Silber .925 Anhaenger (ca  5x 3,5cm) mit natuerlichem Feueropal.  Handarbeit. Inklusive Silberkette ca 40cm
Paysage des Caraïbes, pendantif d'argent .925 (environ 5x 3,5 cm) avec une opale de feu naturelle. Fait main. Chaine en argent inclue environ 40cm.