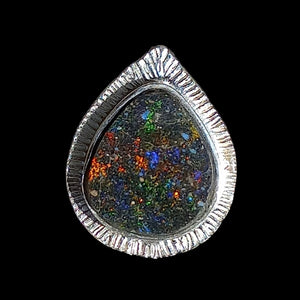 As you wear this sterling silver pendant, carry a piece of the world's natural artistry close to your heart. Let it remind you of the beauty that emerges from the depths of the Earth, a symphony of colors and patterns that tell a story as old as time.
Adorn yourself with the sophistication of our Natural Matrix Opal Drop Pendant, a celebration of nature's harmonious design.
Dije de plata .925 con ópalo matrix natural. Hecho a mano.
Anhaenger Silber .925  mit natuerlichem unbehandeltem Matrix Opal. Handarbeit .
Pendantif d'argent .925  avec une opale matrix naturelle.  Fait main.