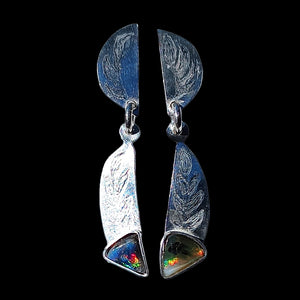 These earrings celebrate the essence of tropical leaves. At the tips of each leaf, genuine black opals glisten like dewdrops, capturing the magic of rain-kissed foliage. The sterling silver leaves sway with grace, and the opal droplets evoke the allure of water shimmering in the sunlight. Together, they create a harmonious fusion of nature's elements, where leaves and water collaborate to create life's symphony.
As you wear these earrings, let them remind you of nature's delicate balance and the beauty of transformation. Each opal droplet symbolizes renewal, growth, and the dance of nature's cycles.
Hojas tropicales, aretes de plata .925, con opalos negros naturales. Hecho a mano.
Tropenblaetter, Silberohrringe .925 , mit natuerlichen schwarzen Opalen. Handarbeit.

Feuilles tropicales, boucles d'oreilles d'argent .925, avec des opales noires naturelles. Fait main.