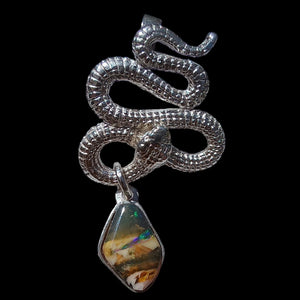 Unveil your bold and enigmatic side with our captivating Sterling Silver Snake Pendant adorned with a mesmerizing black opal. The sinuous curves of the sterling silver snake gracefully hold the deep, mysterious opal, creating a fusion of elegance and intrigue. The iridescent play of colors within the black opal mirrors the shifting shades of day and night, while the serpent's symbolism adds a touch of mystique to your style. This pendant is a statement of empowerment, wisdom, and the allure of the unknown. Embrace your inner enigma with our exquisite Sterling Silver Snake Pendant with Black Opal.
Serpiente, dije de plata .925  con  ópalo negro natural. Hecho a mano.

Schlange, Silberanhaenger mit natuerlichem schwarzem Opal. Handarbeit.
Pendentif d'argent .925, serpent, avec une opale noire naturelle. Fait main.