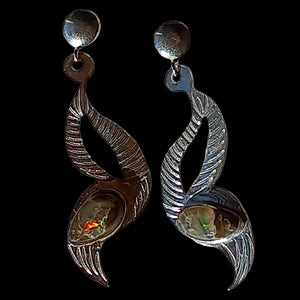 Grace and whimsy come together in our exquisite butterfly earrings adorned with genuine opals. The delicate butterfly wings are meticulously crafted, showcasing intricate details that capture the essence of nature's beauty. Nestled within the wings, genuine opals emit a captivating play of colors, reflecting the ethereal allure of the butterfly's flight. These earrings are a perfect fusion of elegance and playfulness, making them a delightful addition to any ensemble. Embrace the magic of transformation and beauty with our Butterfly Earrings, a true testament to the artistry of nature and craftsmanship.

Aretes de plata .925, mariposas,con opalos  naturales. Hecho a mano.
Schmetterling Silberohrringe .925  mit natuerlichen  Opalen. Handarbeit.
Boucles d'oreilles d'argent .925 (, papillons avec des opales naturelles. Fait main.