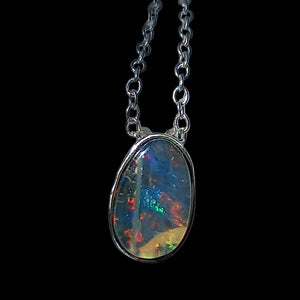 Indulge in the enchantment of the cosmos with our sterling silver pendant, showcasing an exceptional oval-shaped black/seam opal. This pendant is a window into the universe, where opal's depths mirror the mysteries of the night sky. Adorn yourself with the allure of our Exquisite oval Black/Seam Opal pendant, and let its cosmic charm elevate your style to new heights.

Dije de plata con ópalo negro excepcional natural. Hecho a mano.
Silberanhaenger mit wunderschoenem natuerlichem schwarzen Opal. Handarbeit.
Pendantif d'argen avec une belle opale noire naturelle.  Fait main.