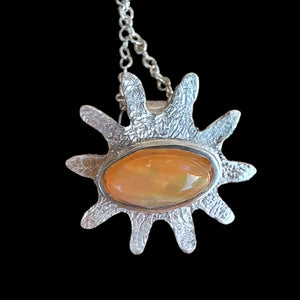 Illuminate your style with our captivating sterling silver sun pendant, artfully shaped to embody the essence of the sun's vitality. This pendant features a mesmerizing fire opal, capturing the fiery energy and warmth that the sun brings. Wearing this pendant is like carrying a piece of the sun's radiance with you, a constant reminder of your inner fire and the energy that propels you forward. Let the fire opal's vivacity ignite your passions and infuse your days with positivity.
Dije de plata .925 con ópalo de fuego natural. Hecho a mano.
Anhaenger Silber .925  mit natuerlichem unbehandeltem Feueropal. Handarbeit .
Pendantif d'argent .925  avec une opale de feue naturelle.  Fait main.